A reliable network connection is a must when you are carrying out an important task online. Whether WiFi or cellular connection, flawless data transfer is necessary to carry out your tasks smoothly.
A laptop with a WiFi connection often encounters connection issues, and one such issue is that the Laptop keeps disconnecting from WiFi frequently.
Normally, it's not an error! Your Laptop may get disconnected from WiFi when you are out of the router or hotspot range, or it's the same outcome when you leave the Laptop for a while for it to trigger the sleep mode.
However, you know there's an issue when your Laptop disconnects from WiFi too often, even when you are close to the router and continuously working on the computer.
This article is written to give you an idea about the reason for such frequent disconnects and the possible solution you can try out right now. We have listed the reasons in short, and a brief tutorial on how to get out of Laptop keeps disconnecting from WiFi issue.
Why does my laptop keep disconnecting from Wi-Fi?
Your laptop may frequently disconnect from WiFi because you might be using a wrong or outdated network driver. It could also be your laptop is trying to connect to multiple WiFi networks on the range. It would be best if you neither ruled out the possibility of hardware error on your laptop nor on the router itself.
These are possible causes for a laptop disconnecting from wifi too often concerning the specific error.
The laptop's wifi sense is trying to connect to a better network but confusing with multiple networks in range.
The Wifi network driver could be outdated.
Your Windows might require the latest upgrade.
A laptop power management system can disable network hardware to reduce power consumption.
The wifi card might suffer damage,
Wireless Adapter is poorly configured, and channel frequency range is not detected
It could be that the router hardware is damaged, not functioning properly, or not in a suitable range.
If you dig in there's a lot to blame for this connection issue with the laptop. While that's true, they are a lot of reasons to locate the actual cause. Besides, it could be something else beyond this list.
Anyway, finding a solution is easier if you know the reasons and then you can test all of them and see which one helps you. If not, there can be more to dig and tweak and get things back into work.
Moving forward to the solutions, there are some precautions you should take care of… although it's totally up to you if you want to follow or not.
Always have a backup: It always good to have a backup of your data beforehand to save your essential data in case something goes wrong. Mainly you would want to back up the folder C:\ Users.
Switch to an administrator account: Administrative permissions are required to make special changes on your computer, so if you are using a local account, switch to the admin account.
New post: How to fix this person is unavailable on messenger issue
Once the backup process is complete and permission is elevated, next, you should follow through the hierarchy of the steps to resolve your laptop keeps disconnecting from Wi-Fi.
How to fix laptop keeps disconnecting from WiFi
1. Troubleshooting the Network
2. Change network profile
3. Disable Wi-Fi Sense Feature
4. Disable Random Hardware Access
5. Disable Power Saving for Wi-Fi
6. Change Power Plan setting.
7. Network Socket and IP Reset
8. Custom DNS
9. Check WLAN services
10. Uninstall Wi-Fi Driver
11. Upgrade Wi-Fi driver
12. Clear the clutter
13. Checking the Hardware
1. Troubleshooting the Network
Troubleshooting the internet connection is the best way to step in. Not only for this particular problem but for almost all the issues with laptop network connectivity first we also need to troubleshoot the connectivity.
Most of the time, this does not give you a quick answer but what if yes, and that can save a big time. So go ahead and…
Search for Troubleshooting in the search box of the Taskbar. (for windows 10)
Open troubleshoot settings.
Then click on Additional troubleshooters link.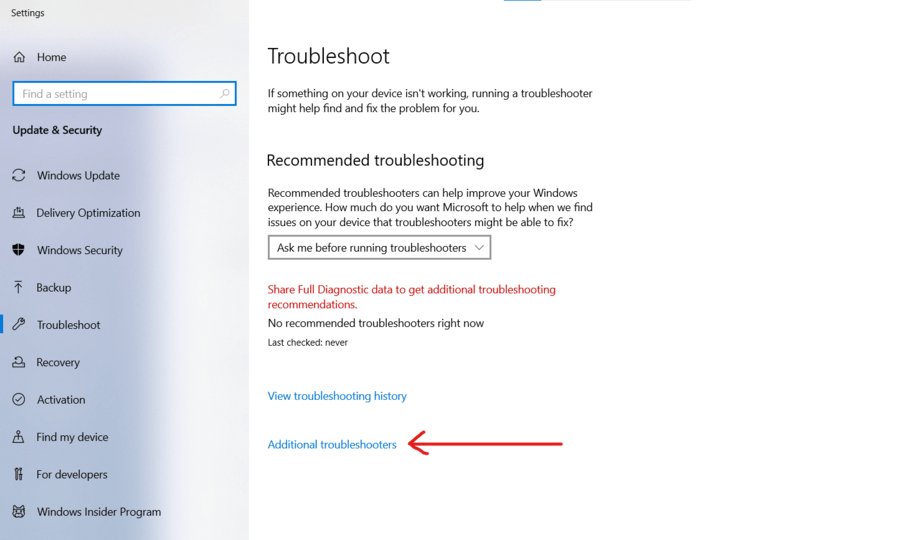 In the next window, click on Internet Connections to run the dedicated troubleshooter.
If the troubleshooter gives you any sort of quick solution, try applying it and check whether that resolves your laptop keeps disconnecting from WiFi issue. If not, proceed to the next step.
2. Change network profile
Next, check your network profile settings. Changing the network profile settings resets the connection and testing the Wi-Fi network with different visibility settings makes sense. Usually, on Windows network profile is set to public but you would want to switch to private and see if that helps.
Click on the Wi-Fi icon on Windows taskbar.
You will see proprties under your connected network, click on that.
Then under Network Profile, and select Private, means your PC is discoverable for a network you usually connects.
Once you have changed the profile settings, check if the connection has been stable. If not, move forward to the next methods.
3. Disable Wi-Fi Sense Feature
This feature was introduced to automatically pick the best networks in the laptop's range. Since it connects to better networks by itself, it might get disconnected every time it switches networks in case the particular range have multiple networks and the Wi-Fi sense might get confused when network strength fluctuates for multiple nearby WiFi routers. So sometimes it's better to keep the Wi-Fi sense feature disabled.
Note: The 2021 update of Windows 10's version 1803 does not offer Wi-Fi Sense.
Go to settings from Start Menu and click on Network & Internet.
Then, go to Wi-Fi and click on the Manage Wi-Fi settings.
Scroll to Wi-Fi Sense and turn off Connect to networks shared by my contacts.
Then restart your PC if required and check your Wi-Fi connectivity status.
If disabling the Wi-Fi sense doesn't resolve the laptop keeps disconnecting from WiFi issue, focus on the next step.
4. Disable Random Hardware Access
When you're not connected to a Wi-Fi network, the PC looks for Wi-Fi networks in the area to help you get connected. You can turn on random hardware addresses to mask your identity from people and prevents tracking when your PC scans for networks and connects.
However, random hardware addresses can cause delusion in the connection resulting in frequent connectivity issues, only if there's a compatibility issue with the router and laptop Wi-Fi hardware. So better keep this feature disabled.
To disable it:
Open Wi-Fi settings.
Make sure the Wi-Fi random hardware address setting is set to disable.
Once the settings are changed, put your device on airplane mode for a couple of seconds to refresh and then test the Wi-Fi connection once again. If that doesn't help either check the rest of the solutions step by step.
5. Disable Power Saving for Wi-Fi
When your laptop is set to switch into power-saving mode as soon as the laptop starts running on battery, the wireless network adapter might be put into a sleeping state. This behavior of laptops saves battery consumption as wireless network adapters consume less power and only runs at the correct time to receive network traffic from the router.
This is good for efficient power management but it might cause a lack of consistency to keep alive a connection causing the laptop keeps disconnecting from WiFi issues. To fix this,
Search for device manager in Taskbar.
Double-Click on your adapter from the dropdown menu of Network Adapters.
Then select the Power Management Tab and uncheck the option of Allow the computer to turn off this device to save power and click OK.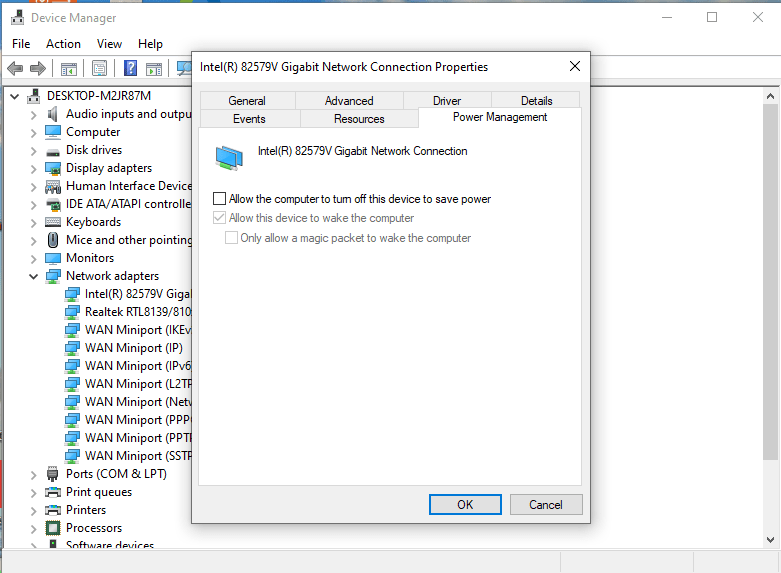 Restart and test the internet connection.
6. Change Power Plan setting.
If you are connected to Wi-Fi that uses wireless APs or routers that do not support the 802.11 power save protocol, then unstable Wi-Fi connectivity issues may occur.
If the power-saving feature included in Windows is causing the laptop keeps disconnecting from wifi then switching into maximum performance settings can help you get out of this problem.
The following is true for laptops that are configured to use the balanced power plan (by default):
When the laptop is plugged into a power source, the wireless network adapter is set to use the Maximum Performance mode. This turns off 802.11 power save mode.
When the laptop is running on battery power, the wireless network adapter uses Medium Power Saving mode. This contune to use the 802.11 power save mode.
So, adjusting your power plan to Maximum performance on both plugged-in and battery mode makes sense. However, note that the battery will drain faster on maximum performance, so test this setting and ensure to revert things if it doesn't resolve your actual problem.
Go to the system from Settings in the Start Menu.
Click on Additional Power Settings in the Power and Sleep section.
Click on Change Plan Settings of whichever plan you have selected.
Click on Change advanced power settings.
Go to Wireless Adapter Settings>> Power saving mode>>On Battery: Maximum Performance and Plugged In: Maximum Performance.
Click on Apply, then OK, and test the internet.
7. Network Socket and IP Reset
The next solution would be resetting the IP and Sockets. In simple words, it will restore all the network-related settings to their factory state. This reset includes Wi-Fi, Bluetooth, VPN, Network adapters, and Ethernet adapters, almost everything under Network & Internet settings will return to their default values.
You can use the netsh command on the Windows command prompt to reset the protocol to the default. It solves major browsing issues and network connectivity issues like in case the Wi-Fi adapter finds a network but does not accept the TCP/IP address, one of the primary causes your laptop keeps disconnecting from wifi.
To reset Network Socket and IP follow these steps:
Open CMD.
Right-click on Command Prompt and 'Run as Administrator'.
To reset the network adapter, type "netsh winsock reset" and hit Enter.
Next type "netsh int IP reset resetlog.txt" and hit enter. This will reset the IP logs from your PC.
Now type "exit" to quit the command prompt.
Restart your system to save changes.
You can follow this video as well, does the same job.
8. Custom DNS
Custom DNS settings can help you fix laptop keeps disconnecting from WiFi. Some people have reported this worked for them and you can try it too. Follow these steps to set a custom DNS configuration.
Go to Start >> Settings >> Network & Internet.
Scroll down to find Change Adapter Options.
Right-click on your Wi-Fi Adapter.
Go to Properties and double-click on Internet Protocol Version 4 (TCP/IPv4).
Choose Manual DNS.
Type 1 1 1 1 in a Preferred DNS server and 1 0 0 1 in Alternate DNS server, or you can also use Google's Public DNS 8 8 8 8 and 8 8 4 4 respectively for Preferred and Alternate DNS server.
Test your Wi-Fi connection.
9. Check WLAN services
Next, you can try setting the WLAN AutoConfig service to be started automatically. If this service fails to start when your PC starts, you may encounter network connectivity that behaves weirdly.
Press Windows + R and type services.msc and hit OK.
Scroll to find WLAN Autoconfig.
fix: WiFi Keeps Disconnecting on Windows 10
Right-click and go to Properties.
Select Startup type as Automatic.
Restart the device and check the connection.
There are a couple of other usual ways to try and get this solved, you might have already tried these… in case you haven't make sure to follow these steps:
10. Uninstall Wi-Fi Driver
Press Windows + R and type devmgmt.msc
Expand Network Adapter Option and right-click on your adapter.
Click on Uninstall Device.
Check the option "Delete the driver software for this device" and click on uninstall to finish the process.
Once you restart your device, it will reinstall the Wi-Fi driver.
11. Upgrade Wi-Fi driver
Search for your laptop manufacturer's Wi-Fi driver on google.
Go to the official website of your PC manufacturing company. Search for the model of your laptop.
Download the driver from the given list by choosing your operating system. You need to find a networking driver WLAN driver.
Download and install the latest driver on your laptop.
12. Clear the clutter
Go to Settings >> Network & Internet >> Wi-Fi >> Manage Known Networks.
Highlight and remove the network having problems.
Restart your laptop to see if it shows up again.
13. Checking the Hardware
Try plugging in by ethernet cable to the router to compare.
Then plug the ethernet cable into the modem (if separate) to see if this might be an issue with the router.
Still can't get your laptop to have a stable Wi-Fi connection?
If even after all these efforts laptop keeps disconnecting from the WiFi issue did not resolve, it's time for you to call your laptop's company support as well as the router's company support team (if you own the router). In case you found your solution in this guide make sure to bookmark it and come back if you ever face the same issue again.