Noise cancellation software is a real deal to eliminate unwanted audio interference such as background noise, mic noises to produce high-quality clear sounds. Whether in a meeting or streaming, noise-canceling apps can help, especially when you don't have access to a high-quality microphone.
These tools are capable of what best microphones do, cancel all sorts of noises, and isolate the primary sound source. In modern-day audio productivity, noise cancellation plays an essential role for most concerned about drowning out their surroundings and producing proper and crisp audio quality.
The quality of audio matters more than the quality of the video. High-quality audio doesn't divert you from the video content; it embraces and connects you with the video content resulting in a more enjoyable listening experience, learning, or entertainment.
There are plenty of noise-cancelling software you can find online; not necessarily all of those are good. We are adding some of the most helpful noise cancellation software you can have on your device.
How does noise reduction software work?
A noise-cancelling software works as a virtual filter where the idea is to record the background noise, then invert that noise signal to create anti-noise, and combine it with the output signal, which includes your music or voice record. This anti-noise signal cancels out the actual surrounding noise by the time it reaches our ear.
List of free noise cancellation software
1) Krisp – for Windows and macOS
2) Nvidia RTX Voice – for Windows and MacOS
3) SoliCall – for Windows
4) NoiseGator (Noise Gate) – Linux/Mac/Windows
5) Mp3, MP4, WAV Audio Video Noise Reducer, Converter – for Android
6) Neutralizer – for Android
7) Samson Sound Deck – Windows/Mac
8) Noise Killer – Android-only noise-canceling app
9) Urban Denoiser
1) Krisp – for Windows and macOS
If you are a remote worker then Krisp is a must-have app for you. It is very user-friendly and as it is AI-powered it cancels background noises in real-time.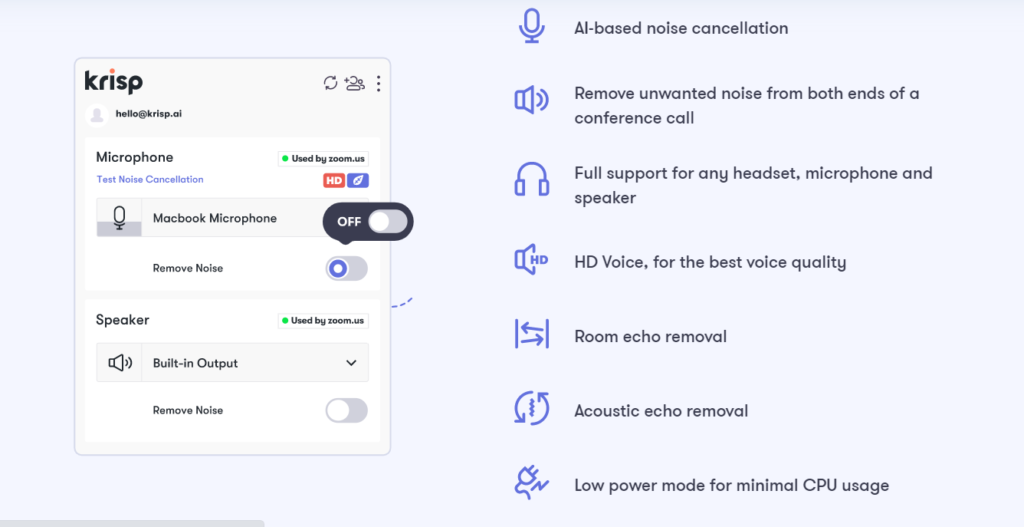 Krisp is well-reputed for delivering crystal-clear, high-quality, and crisp audio with all background noises filtered off. This noise cancellation app was awarded as one of TIME's best inventions of the year 2020 and is an Industry favourite.
From unwanted barking dogs, crying babies, keyboard clicks, and street background noises up to unpleasant acoustic and room echoes, Krisp is your automatic mute button for all that chaos.
Its AI-powered noise suppression relies on machine learning to analyze an individual's audio feed, filter out the noise, and retain only the speech signal.
Key Features
It has an AI-powered noise filtering system.
It is compatible with 800+ communication and streaming apps.
Removes all noise coming from Microphones.
Removes all noise coming from Speakers.
Cancels out Acoustic echoes.
Room echo removal.
Full support for any headset, microphone and speaker.
Low power mode for minimal CPU usage
HD quality voice output.
Inbuilt audio recording.
Floating widget quick feature accessibility.
Pricing Plans
Krisp is a freemium tool.
It has premium plans but comes with a free trial with a limitation of 240 minutes a week with microphone noise removal, speaker noise removal feature, acoustic echo cancellation, HD Voice, room echo cancellation, and 1 GB of recording storage.
The three tire paid plans look like this:
Personal Pro ($12 per month, billed monthly)
Teams ($12 per user per month, billed monthly)
Enterprise (quotation-based pricing).
All of these premium plans come with unlimited minutes of use with monthly or yearly subscriptions options.
2) Nvidia RTX Voice – for Windows and MacOS
‍Nvidia RTX Voice does a fantastic job in removing unwanted background noise from your audio clips. It creates a virtual microphone and speakers within your computer system used in your audio and video chats to eliminate background noise.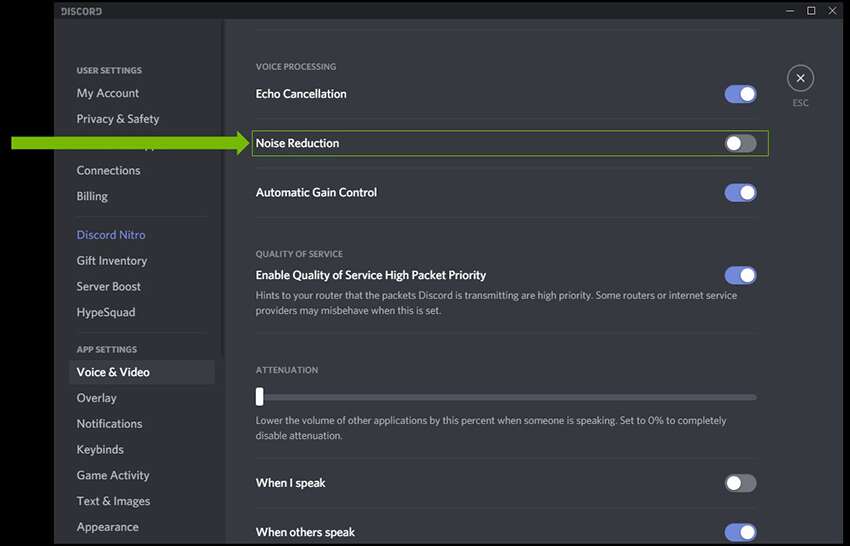 RTX Voice was introduced in April 2020 by Nvidia as a new extension for RTX 20-series GPUs to enhance audio communication by diminishing undesired background noise with AI support. It is capable of suppressing incoming background noise from the audio of other online players in noisy environments.
You must have an Nvidia GeForce RTX or Quadro RTX graphics card on your system to use RTX Voice. RTX Voice now officially works with all high-quality graphics cards in the RTX 30-series down to the GTX 600-series) means you can use RTX voice with NVIDIA GTX or RTX graphics cards but need to have at least driver v410.18 or newer as well as be on windows 10.
It supports all kinds of communication apps on PC; however, you can't use it on your mobile phones, unlike Krisp, which does it well for multi-device use. The official statement about supported communication apps are:
OBS Studio
Streamlabs
XSplit Broadcaster
XSplit Gamecaster
Twitch Studio
Discord
Google Chrome
Battle.net Chat
WebEx
Skype
Zoom
Slack
Teams
Steam Chat
Precaution: RTX voice does take system resources, and you would want to avoid running it all the time, instead run it on your speaker and Microphone only when needed.
Key Features
AI capabilities to eliminate background noise from your streams and calls
Eliminates PC and fan noises on Microphone.
Eliminates distracting keypress sounds from a mechanical keyboard
Provides Crystal Clear Audio.
Support two-way noise removal means incoming & outgoing noise filtering.
Support a wide range of communication apps.
Pricing Plans 
Nvidia RTX voice is a free tool and is available for both GTX and RTX GPUs. Technically, you will still be spending $$$ on your GPU.
3) SoliCall – for Windows
SoliCall Pro is a professional Noise Cancellation Software. It is mainly used by organizations and individuals looking for professional quality audio output for various reasons.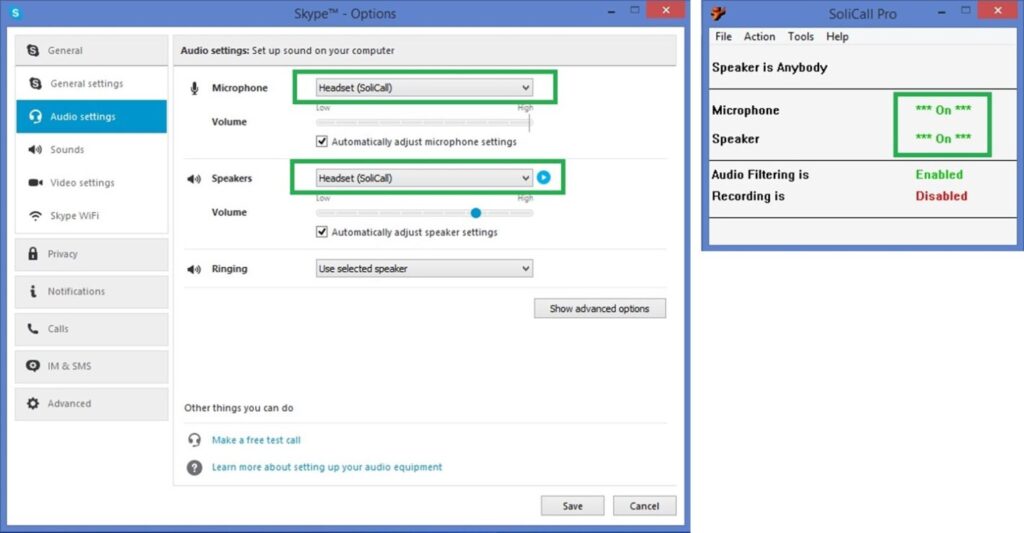 An innovative and patented noise reduction technology is used by SoliCall, which improves audio quality by detecting & filtering audio signals that are not originated from the speaker's vocal stream.
Their profile-based noise reduction (PNR) technology does not focus on specific noises like other software we mentioned earlier; instead, it focuses on the speaker's voice.
The PNR technology works for bidirectional audio streams and is, therefore, able to provide you with a noise-free experience for both incoming and outgoing audio streams.
SoilCall is compatible with all modern versions of Windows. During a call, it provides crystal clear audio quality on both sides and filter echos. Also, since they have cloud services, you will benefit from its service on mobile devices.
This noise cancellation software is helpful for individuals and organizations, particularly call centres, because SoilCall's Noise Farewell solution can prevent ambient noise in call centres and prevent customers from overhearing it.
Key Features
Noise reduction and Echo cancellation is done on both sides of the call
Supports all audio formats
Works with all commercial phones
Integration with your soft-phone is quite simple
Records the calls
Modest CPU requirements.
Compatible with any cloud-based communication apps
Pricing Plans
SoilCall pro has a trial period of 3 days, and as it seems on their official site, you will have to contact their support/sales team to go for the premium.
4) NoiseGator (Noise Gate) – Linux/Mac/Windows
It's a simple noise suppression software able to remove background noise when you are talking with others on Skype. It can cut noise completely from your audio input or speaker output based on their gate logic.
During Skype calls, NoiseGator analyzes the audio level, and if the average audio level is higher than the threshold, audio input bypasses as usual. If the average audio level drops than the threshold, the gate closes, and Noisegator will cut the audio.
You can use this tool with a virtual cable that acts as a noise gate for either input(microphone) or output(speakers). It can be used while gaming or online conference (on Skype) for long sessions. Switching audio input during use does seem to work fine on my tests.
Key Features
Designed explicitly for Skype call sessions and compatible.
It's a lightweight open-source program.
It requires java 7 or higher for Windows.
Requires Java 6 or higher for Mac (Java 7 recommended)
To use it with VIOPs, a virtual audio cable is required.
Pricing Plans
Noise Gator is open-source software. The developer recommends Windows users have a VB-Cable driver installed or updated.
5) Mp3, MP4, WAV Audio Video Noise Reducer, Converter – for Android
This is the highest-rated app on the Google play store that cuts out and reduces background noise on android devices. It can also be used as a noiseless audio recording tool.
‍Mp3, MP4, WAV Audio Video Noise Reducer, Converter uses the latest deep learning technology (as described) to remove or cancel noise from an audio file.
This app is very lightweight; it doesn't take much of your phone's space. It is also effortless to use. This app doesn't work with music, so you won't be able to clear noise while playing music on your phone, which is unnecessary, given that music comes with a high bitrate nowadays anyway.
With this app, you can create audiobooks obviously with reduced noise and clear audio quality; that's all by the way on your android phone in hand.
Key Features
Makes Audio noiseless and clean
Facilitates comparison between noisy and clean Audio
Saves Audio in 15+ audio formats
High-Quality Audio Recorder
Facilitates sharing of Noiseless Audio and Video
Pricing Plans
This noise-cancelling app is free to use.
6) Neutralizer – for Android
Neutralizer is an interesting one in this list but not a typical noise-cancelling app. It's more of an equalizer made for sound restoration and improves the audio experience on a mobile device.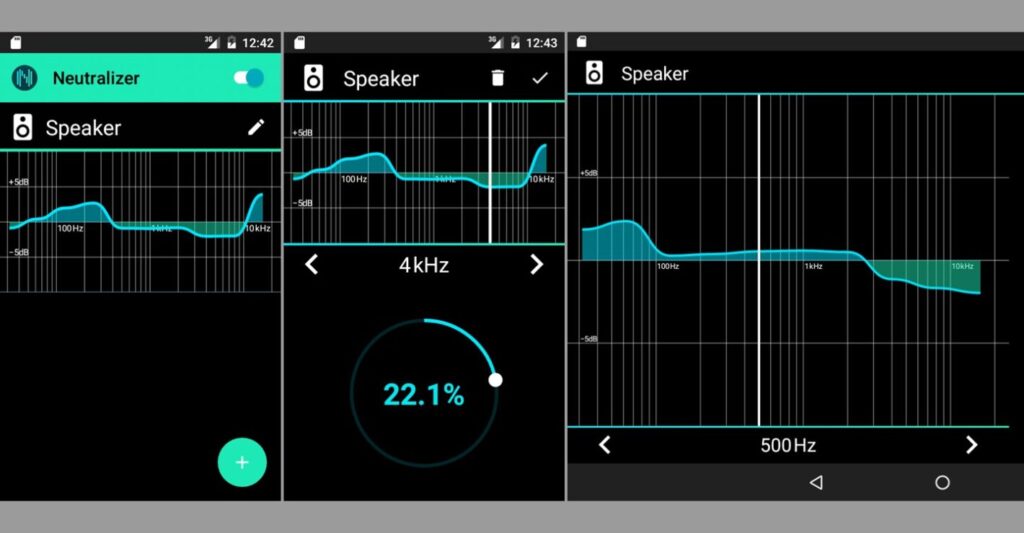 Most of the time, we believe that we need high-quality audio output hardware. While this is true, you can also achieve a high-quality audio experience with hearing enhancement. With that logic, Neutralizer is developed to minimize the lack of your acoustic track.
Neutralizer tests your hearing ability in key frequency ranges and adjusts the system equalizer to use that profile for a better listening experience.
This app is quite flexible regarding the audio customization feature. You can manually cut off unwanted audio frequencies to meet your preferred listening experience as well. Neutralizer is better in this particular app category because it doesn't distort sound quality like other apps.
Key Features
A hearing examination feature is provided
Adaptation of sound
Noise reduction mode is Activated
An Adaptive System Equalizer is provided
Various Key Frequency ranges are available
Pricing Plans
Neutralizer is free to use and available for Android users.
New post: 10 Best Sword Enchantments In Minecraft – Gamespec
7) Samson Sound Deck – Windows/Mac
Samson Sound Deck is another free noise cancellation software with Samson's new "Go Mic Direct Portable USB" microphone. Sound Deck comes with a complete package to improve computer communication and audio recording.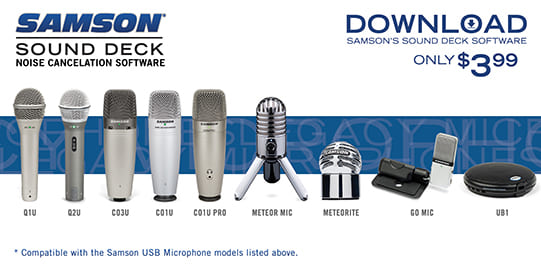 It is powered by state-of-the-art digital noise reduction algorithms that help it produce high-quality crystal clear audio outputs. Important to mention that digital audio processing technology is used on cockpits of military fighter jets and tactical Special Forces units. This technology heavily inspires samson Sound Deck.
Key Features
As mentioned above, Sound Deck is a complete audio utility tool combined with various recording and output solutions.
Works well on both Windows and Mac PCs.
This tool seems to be memory efficient on our tests.
It has filters to let you control the audio output.
Too good to record webinars, voice memos and audio files.
Pricing Plans
Samson Sound Deck costs around $4 and does not have any trial or demo version.
8) Noise Killer – Android-only noise-cancelling app
Noise Killer is another noise suppression software only available for Android phones. It helps in managing noises in crowdy – very useful in libraries, classrooms, offices, and other places where you need to maintain silence.
Noise kiler is one of the most straightforward noise reduction apps to monitor sound levels. The app will alart you if the sounds exceeds the maximum value of the sound level you have set or it's default configuration.
It features a handful of alert types for example vibration, beep, message, etc. You can manage the volume level depending on surrounding noise. It has a "shake" function that can adjust the volume based on your phone's movement.
Key Features
Noise level monitoring
Automatic volume adjustment
Speed movement monitoring
Geo-position access
Shake function
Pricing Plans
Noise Killer is a free to install app and available on Playstore.
9) Urban Denoiser
UrbanDenoiser is an app designed for people to enjoy their favorite music. But it can act as a noise cancellation software by automatically adjusting volume and frequency masking to eliminate undesirable noises in the background.
This noise-canceling app allow you to hear and listen better as well as does a great job on supressing the noise during video calls. The UrbanDenoiser won the Microsoft AppCup in 2015.
Key Features
Noise reduction
Patented natural sound restoring
Sound amplification equalizer
Volume booster
Pricing Plans
UrbanDenoiser is a free-to-use app with ads.
ARE YOU ABLE TO PICK YOU NOISE CANCELLATION SOFTWARE?
These seven tools are selected based on their capabilities and overall user experience. On top of that, these tools are stuffed with tons of awesome features that you would want to try out. Either explore their official pages or try them yourself to see which one suits you best. Additionally, there are other tools in the market that you might love.